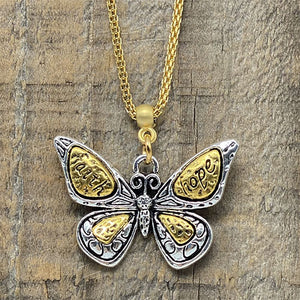 Ferris Arts
Butterfly Pendant - "Hope & Faith"
A detailed two toned butterfly pendant to a gold cable chain. The Butterfly carries the message of Faith & Hope on its wings. The butterfly is 22 x 30 mm. The chain is a 24" or 30" gold plated stainless steel with a clasp.


The butterfly represents the shedding of our cocoon and lifting it wings into the light. The butterfly represent transformation and change.