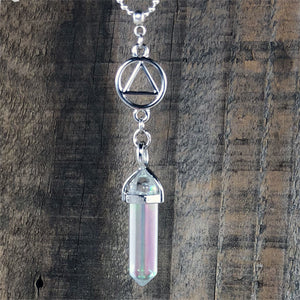 Ferris Arts
Alcoholics Anonymous Quartz Crystal and Titanium Pendant - "Awareness and Acceptance"
A quartz crystal pendant treated with titanium with an AA charm connector. The chain is silver plated ball chain that is 30 inches and can be cut to any desired length. The stone is approximately 1.25 inches in length. The entire pendant from bail to bottom of point is 2.75".

The quartz crystal is put in a vacuum and titanium gasses are released and the crystal's color properties are changed. Quartz Crystal is a stone of focus and clarity. When we see a rainbow we are reminded of a sense of the oneness of the world. The "rainbow aura - quartz crystal" represents - awareness and acceptance.

The pendant in the photo is a sample. Since each one is a cut stone, the actual piece may vary slightly in hue.
---
More from this collection